---


12 MAY 2016

LEGALLY BLONDE MAY 2016

link to review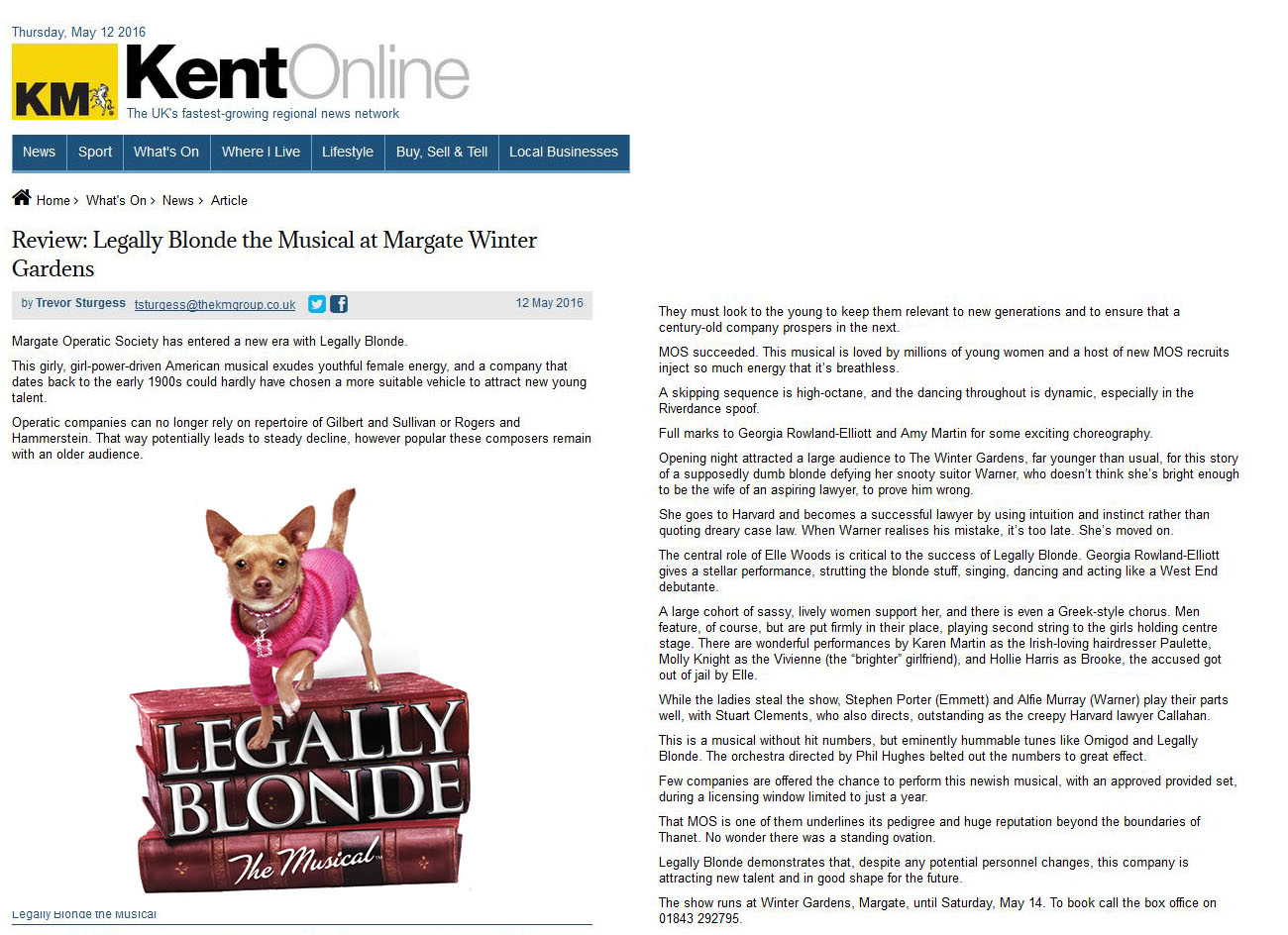 26 JUNE 2014
THANET KM EXTRA REVIEW OF 42ND STREET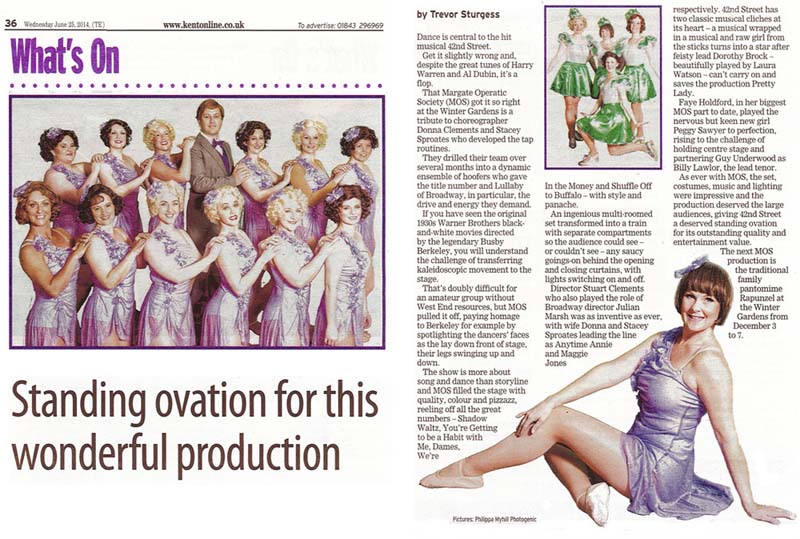 ---
SNOW WHITE AND THE SEVEN DWARFS - DECEMBER 2013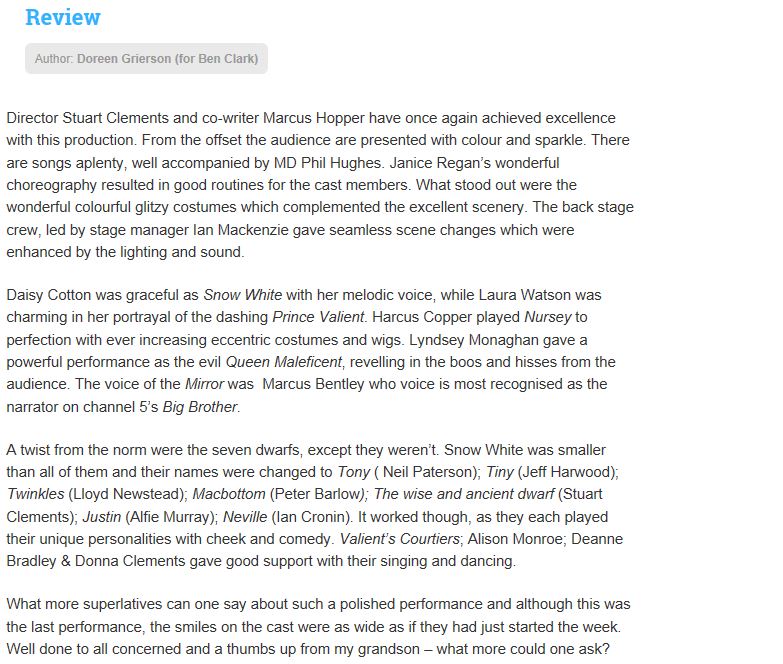 NODA REVIEW
ALADDIN 2012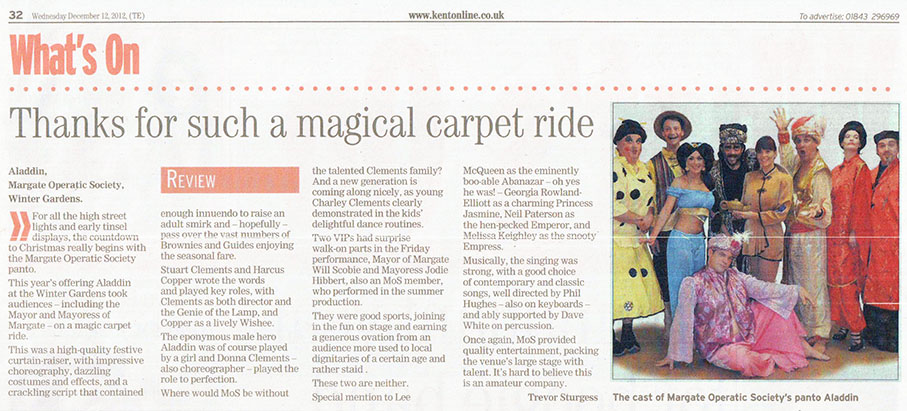 DICK WHITTINGTON 2011
---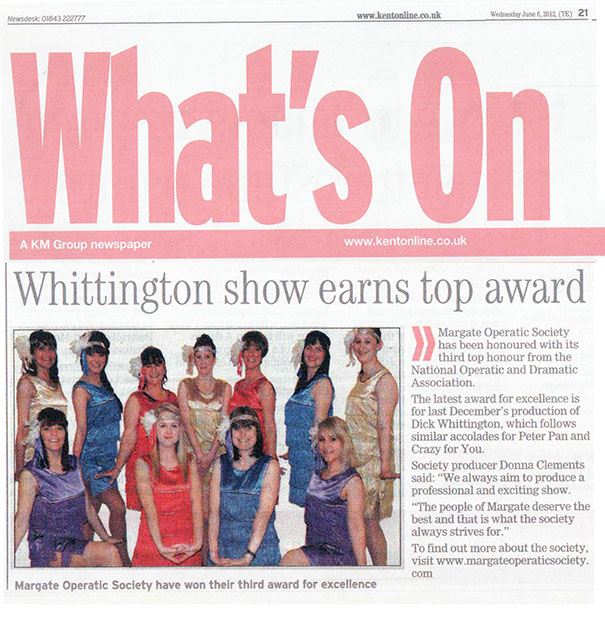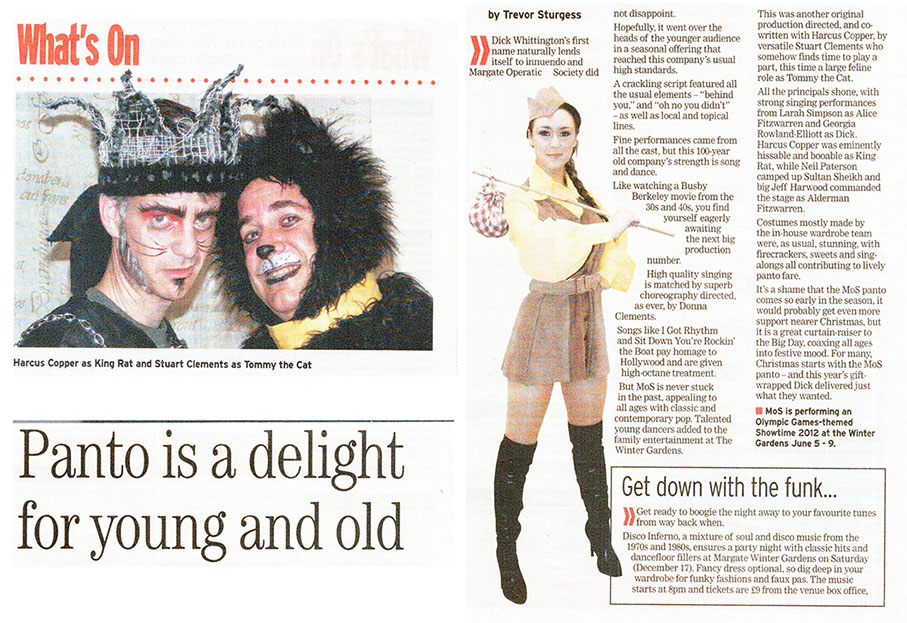 The Producers - 2011
Thanet Extra review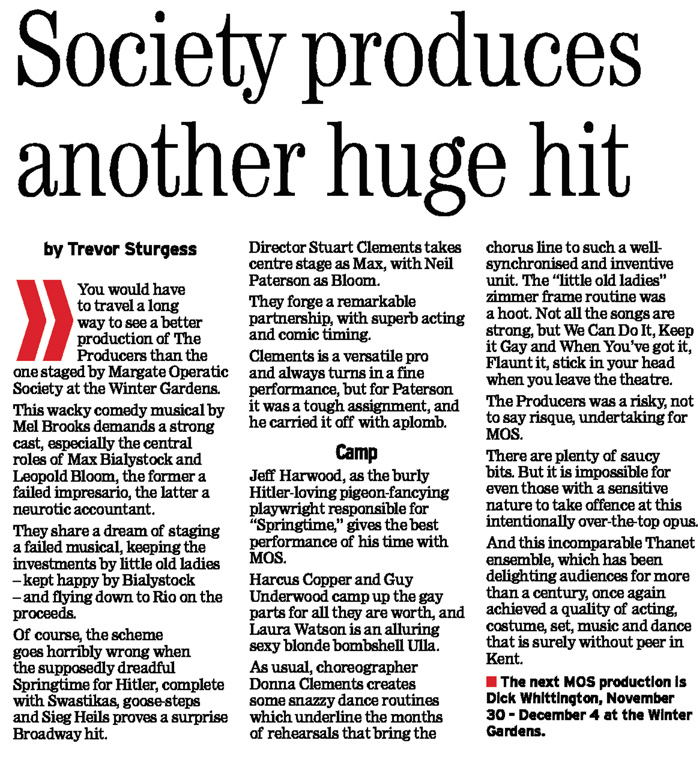 The review from Sylvia Blogg (NODA)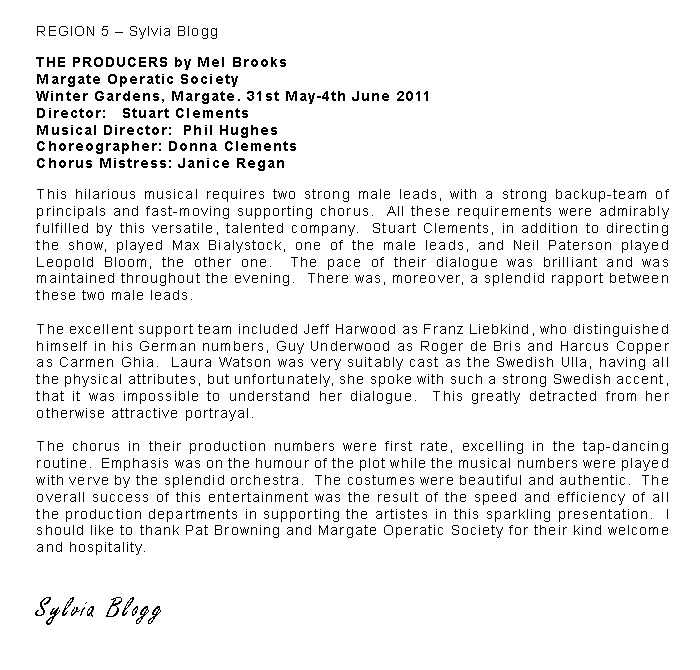 ---
Sleeping Beauty - 2010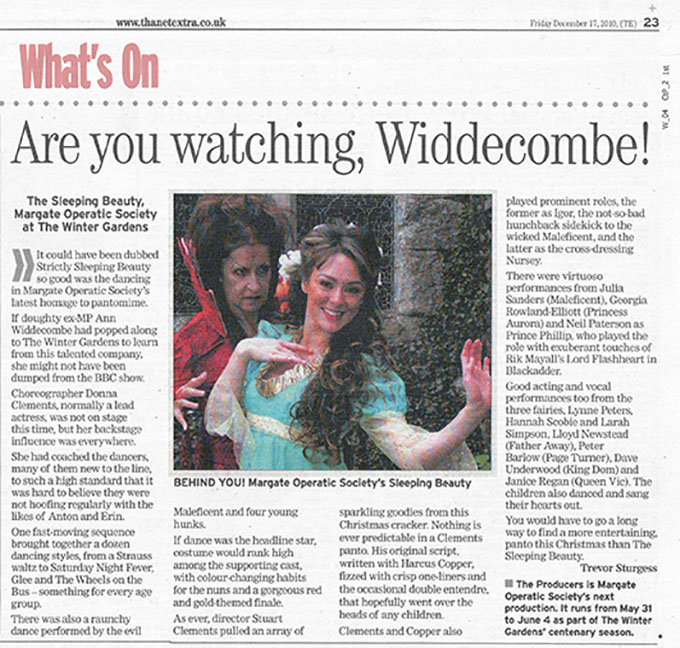 The review from Sylvia Blogg (NODA)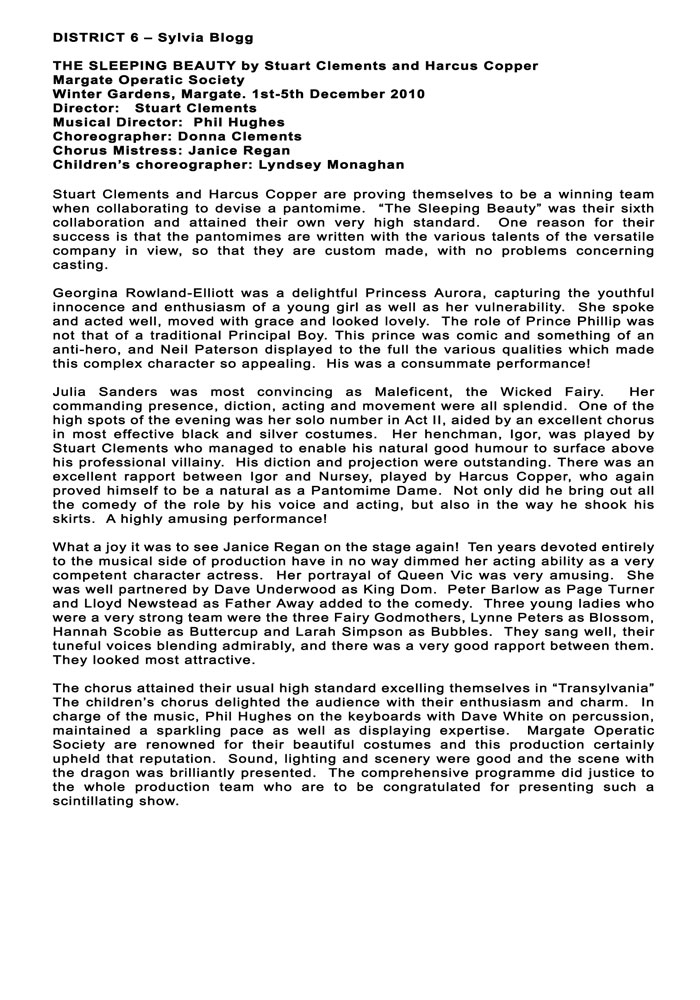 ---
Beauty and the Beast - 2010
An Excellant review from Sylvia Blogg (NODA)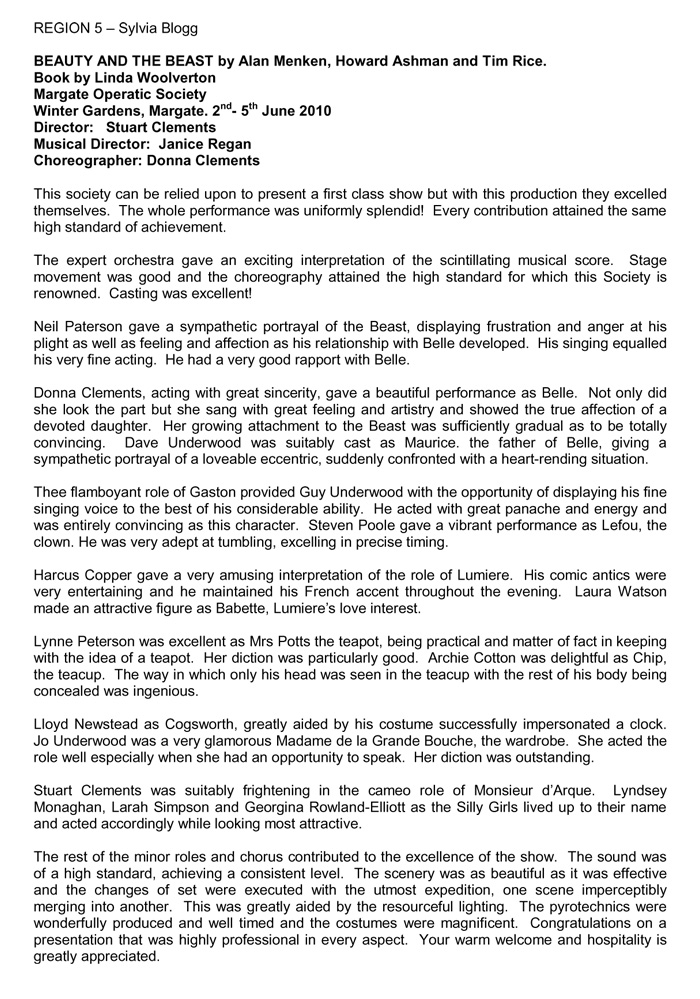 ---
Peter Pan - 2009
Sylvia Blogg (NODA) review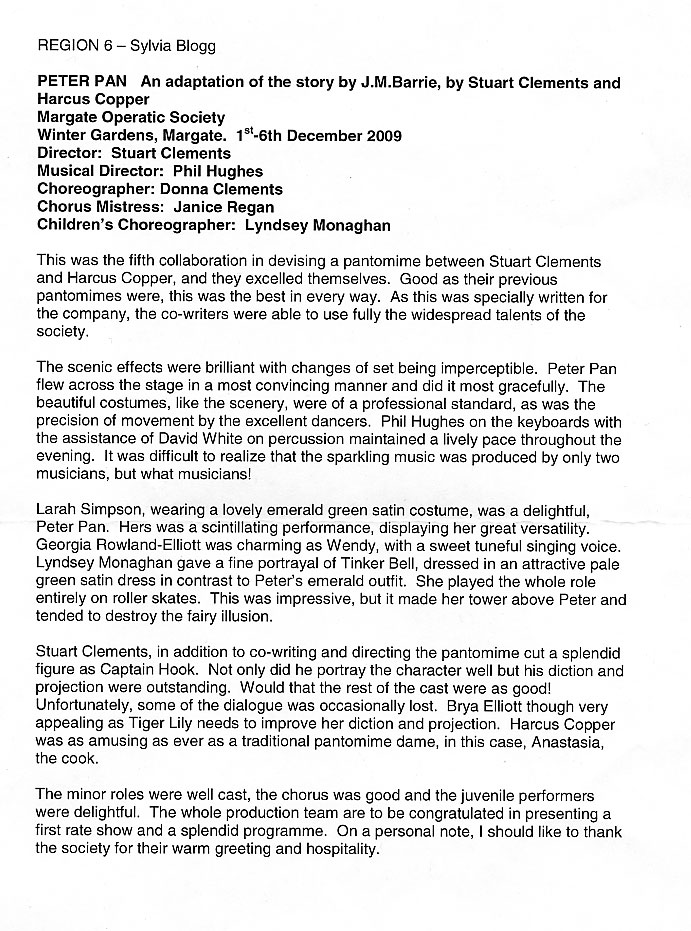 ---
A Night on the Town - 2009
From the Isle of Thanet Gazette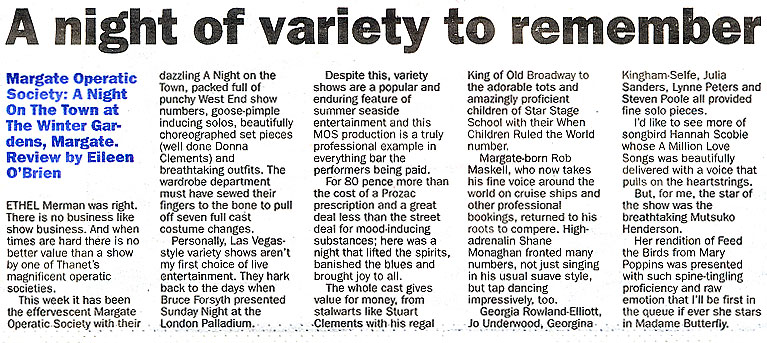 From Sylvia Blogg - NODA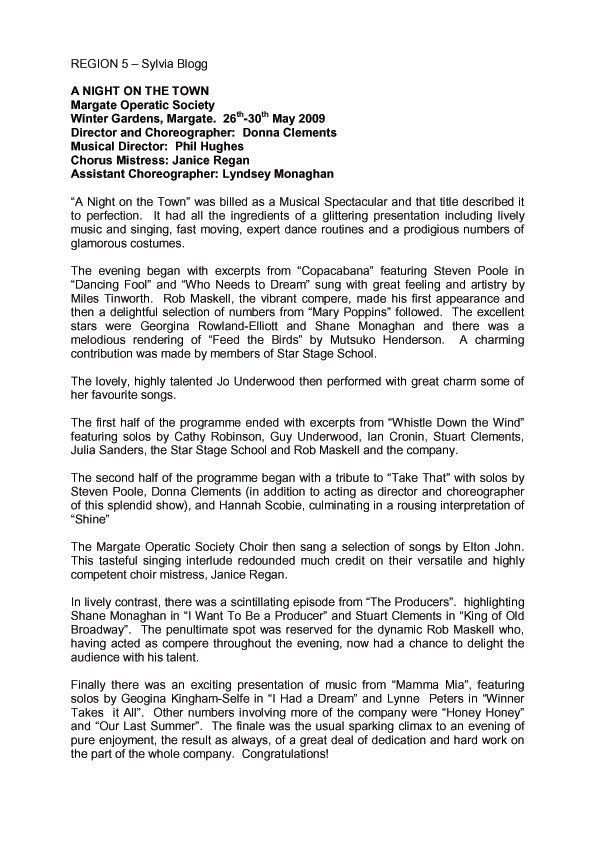 ---
Babes in the Wood - 2008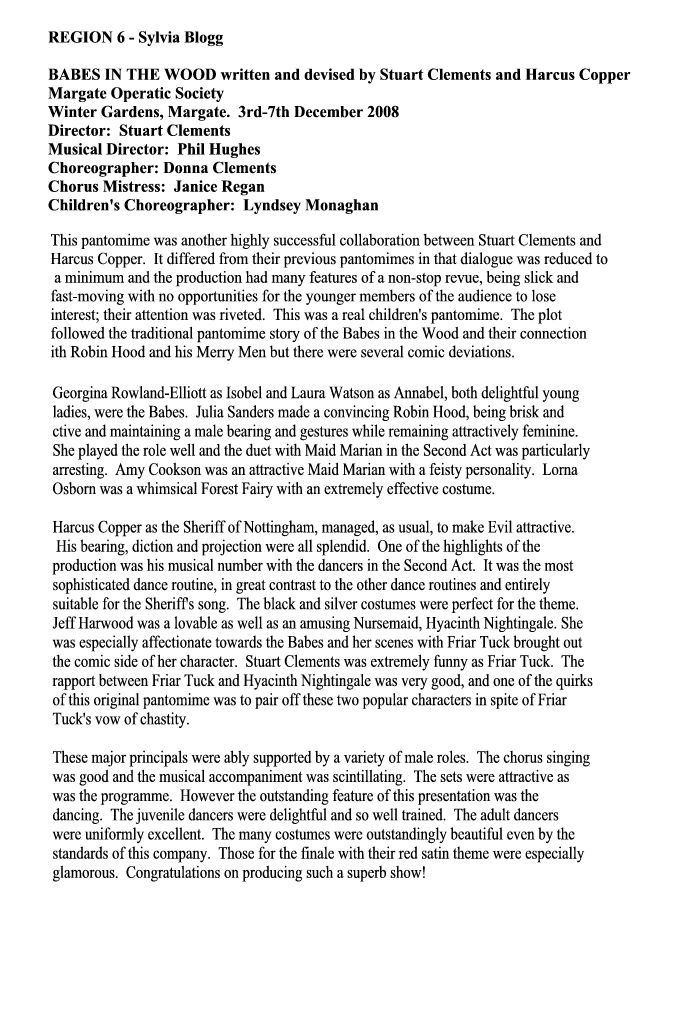 ---
Carousel - May 2008
From the Isle of Thanet Gazette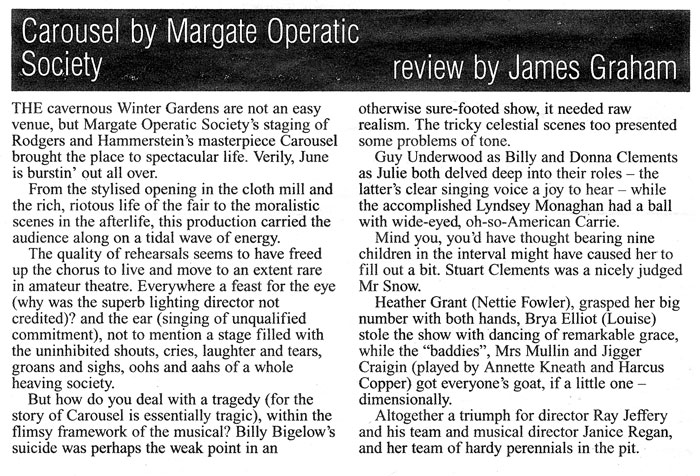 Review from Sylvia Blogg - Local Noda Rep

DISTRICT 6 - Sylvia Blogg

CAROUSEL by Richard Rodgers and Oscar Hammerstein
Margate Operatic Society
Winter Gardens, Margate. 27th- 31st May 2008
Director: Ray Jeffery
Musical Director: Janice Regan
Choreographer: Donna Clements
Director's Assistant: Dawn Harrison

This was an exciting production which attained a very high standard indeed. The scene changes were brilliant, beginning with the almost imperceptible replacement of the interior of Bascombe's mill by a moving carousel. This level of stage management was maintained throughout the show.

The competent orchestra gave a fine interpretation of the musical score with their usual expertise. The choreography achieved the high standard of performance which the audience has come to expect from this talented company and the costumes were outstandingly good.

The whole company contributed to the excellence of this show. In particular, the principals were well cast in their respective roles. Guy Underwood was compelling as Billy Bigalow. His strong singing voice suited his macho image but he was able to convey his varying emotions when dealing with Julie, Jigger, Mrs Mullins and Louise. Donna Clements played the role of Julie Jordan with great sincerity, portraying her innocent charm and vulnerability. Her singing and acting as well as her appearance were delightful. Lyndsey Monaghan conveyed every facet of the character of the scatterbrained Carrie Pipperidge, her vivacity, her unquestioning love for Mr Snow and her loyal and enduring friendship with Julie. Unfortunately, her intonation was faulty and this detracted from the overall excellence of her performance. She was well partnered by Stuart Clements who was very amusing as the pompous and priggish Enoch Snow.

Harcus Copper managed to disguise his youth in his splendid portrayal of the villainous and hard-bitten Jigger Craigin. In addition to an excellent make-up, he maintained a gruff voice which suggested an older man. He was very convincing in his menacing role. Annette Kneath was excellent as Mrs Mullins, conveying the idea of a worldly-wise, hard-headed business woman who nevertheless has an obvious attachment to Billy Bigalow. Her dramatic entry at his death was very moving. Brya Elliot danced beautifully and gave a poignant portrayal of Louise, the daughter of Julie and Billy.

Finally Heather Grant gave a wonderful, well-rounded performance as Nettie Fowler. From her dynamic presentation of "June is Bustin' Out All Over" to her thrilling rendering of "You'll Never Walk Alone" with her glorious soaring notes, she displayed supreme artistry and captured every aspect of Nellie Fowler's character. A splendid performance crowning a superb production by the whole team. Congratulations!

---
Cinderella - November 2007
K M Extra Review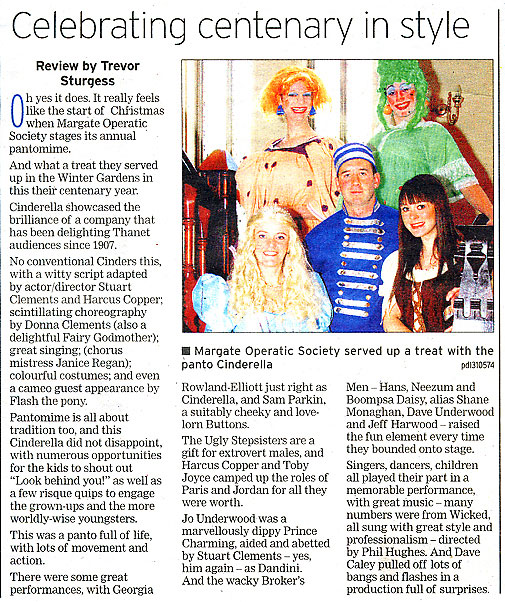 NODA Review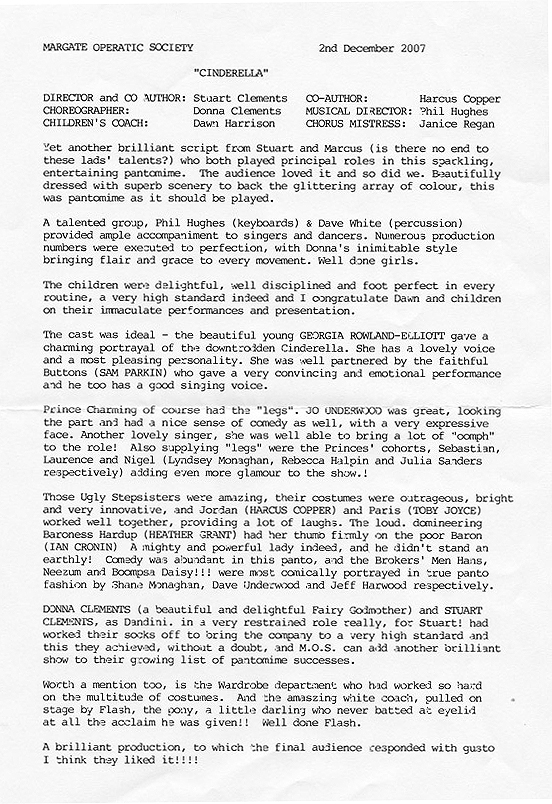 Sylvia Blogg's Reveiw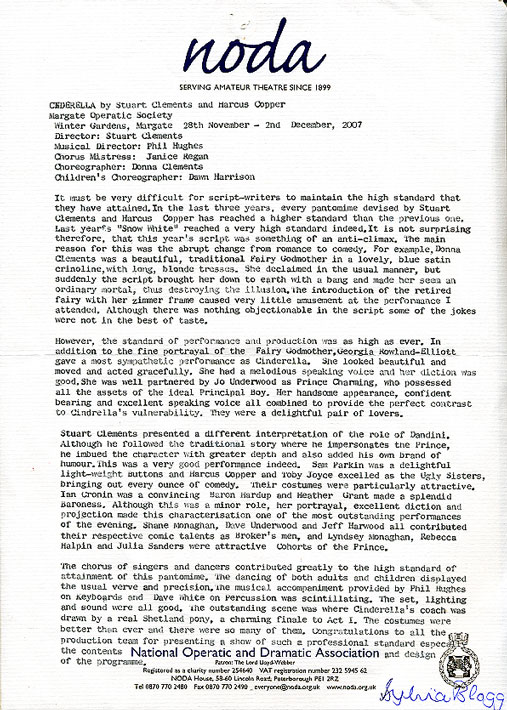 ---
Crazy for You - May 2007
From the KM Extra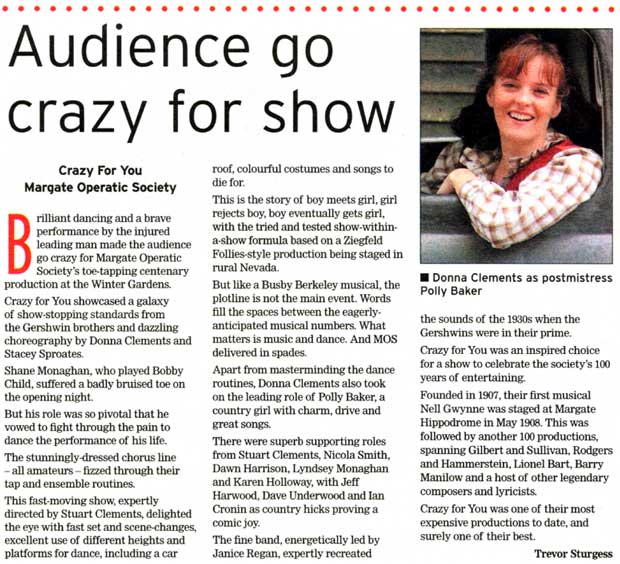 From the Isle of Thanet Gazzette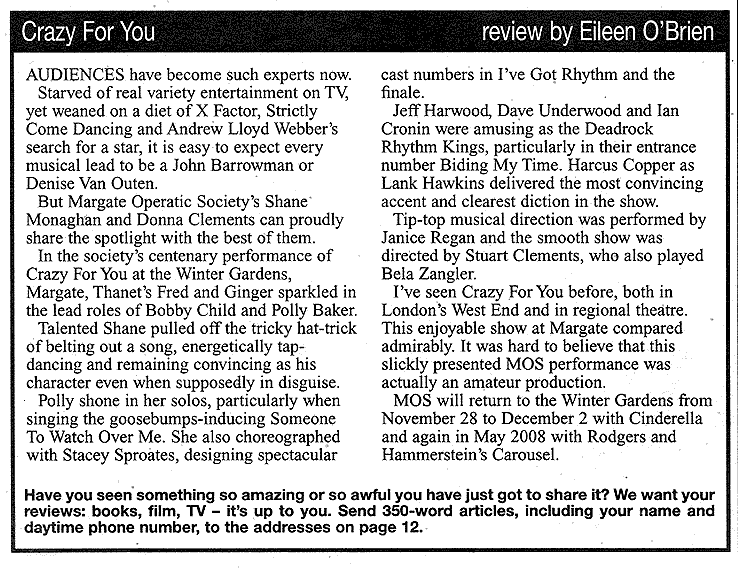 Review from Sylvia Blogg - local NODA rep. She enjoyed so much she came along and saw it twice,
Thanks Sylvia, glad you enjoyed it!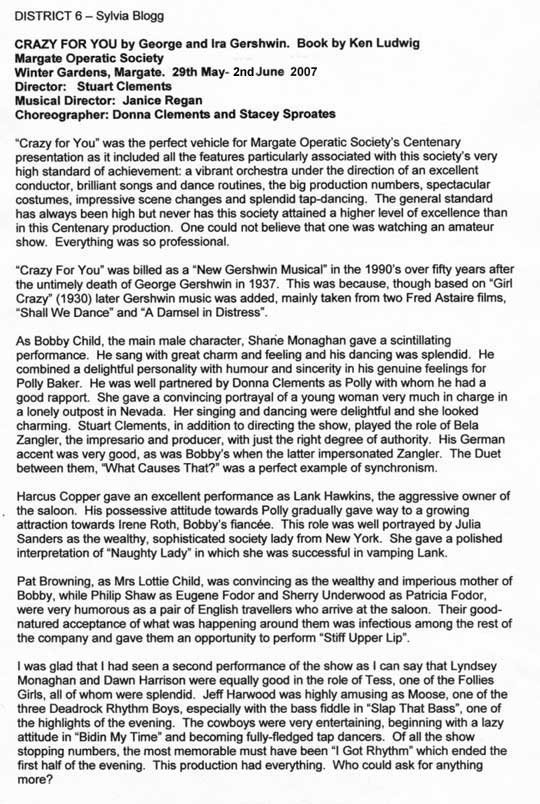 Olga's review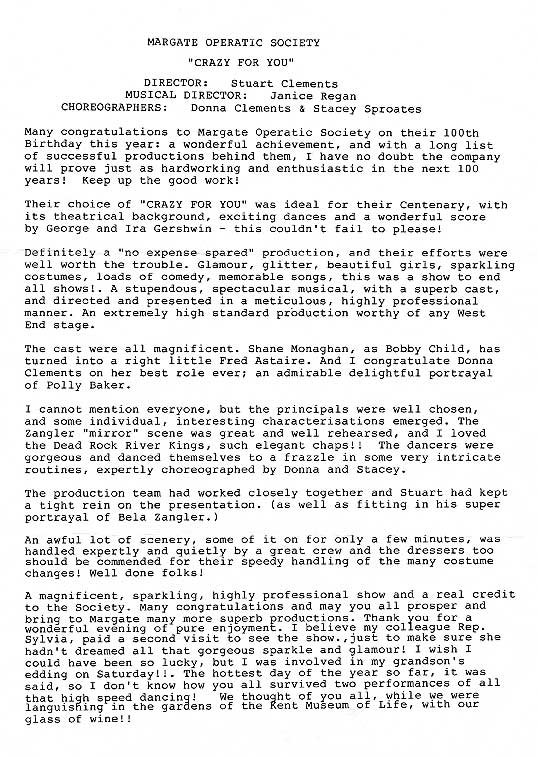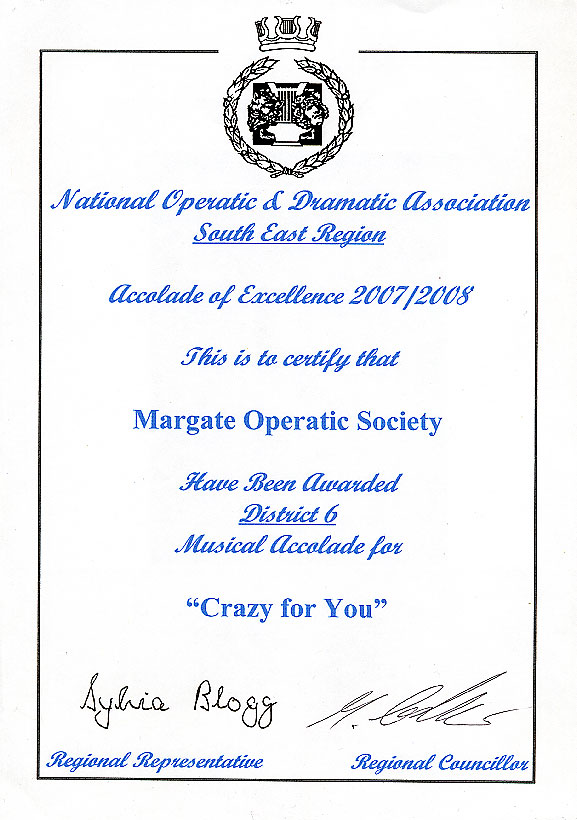 ---
Snow White - November 2006
Review from Sylvia Blogg - local NODA rep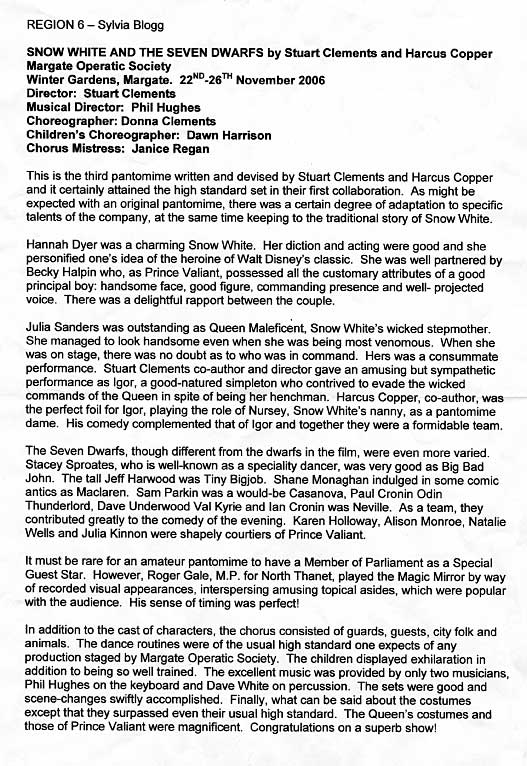 ---